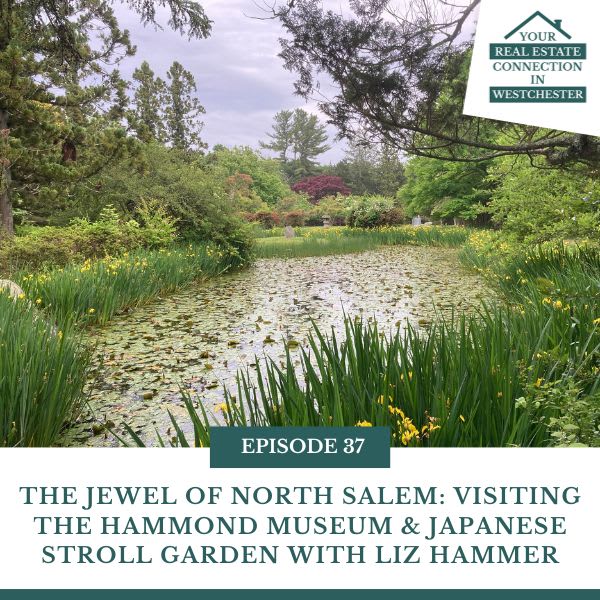 Summer is such a great time to explore, and Westchester County is full of jewels that never cease to amaze me. I recently had the pleasure of spending the day at a special place in North Salem; the beautiful Hammond Museum, where I became enchanted with the peaceful seven-acre gem of a Japanese garden.
The Hammond Museum & Stroll Garden is an intimate oasis providing access to peace and mindfulness for all. Through tranquil Japanese gardens and innovative arts and education programs, their vision is to be a destination that introduces visitors to an inclusive world community through art and nature. It is truly a gift to the senses and a very special place to visit, and this week, I welcome Executive Director Liz Hammer to share her infectious passion for the place.
Join us this week as we dive deeper into the beauty of the Hammond Museum & Japanese Stroll Garden. Learn more about where the vision for these beautiful gardens came from, some of the incredible events taking place this year at the museum, and why you need to plan a visit and see the incredible beauty for yourself.
If you enjoyed today's show, I would really appreciate it if you would leave a rating and review to let me know and help others find Your Real Estate Connection in Westchester. Click here for step-by-step instructions on how to subscribe, rate, and review!
What You'll Learn from this Episode:
How Liz developed her passion for the genre of Asian art studies.
One of the most rewarding things about East Asian culture.
What a successful Japanese garden looks like and the benefits it can bring to us all.
Why I recommend you take some time to enjoy the Hammond Museum & Japanese Stroll Garden.
When the Hammond Museum & Japanese Stroll Garden is open each year.
Some of the events on offer at The Hammond Museum & Japanese Stroll Garden.
Listen to the Full Episode:
Featured on the Show:
If you enjoyed today's show, I would really appreciate it if you would leave a rating and review to let me know and help others find Your Real Estate Connection in Westchester. Click here for step-by-step instructions on how to subscribe, rate, and review!
Contact me:

[email protected]
Full Episode Transcript: